I made this purse for my mom and it's been a long time in the making.
Her birthday was at the end of August when she requested a purse of this style. But she didn't get around to picking out the fabrics (what? she didn't want me to surprise her?) until September at least. And then of course I realized I was out of batting. And then there was the minor detail of my lovely, craptastic, cheap Singer machine on the fritz. Again.
And so it just got pushed back. And pushed back. And pushed back.
But I have a divine Bernina machine now (technically, I'm housing two right now... a 1008 and a 1010... one I've sold and just need to ship off... tomorrow I think) and my trusty Swiss-made machine sews like a dream.
The actual piecing is easy... it's the quilting that really hangs me up and makes me not even want to start.
But, I finally did it. And I'm very happy with the end result.
The brocade my mom picked out was stunning from the get-go. But I wasn't too sure about the solid. In truth, I'm a bit of a fabric snob... and this solid just wasn't meeting my standards. It felt a bit rough and is definitely on the thinner side. I'm still not sure I'd buy more of it, but the color along with the rest of the purse if PERFECT!
Enough chatter, on to the pictures...
My artsy shot: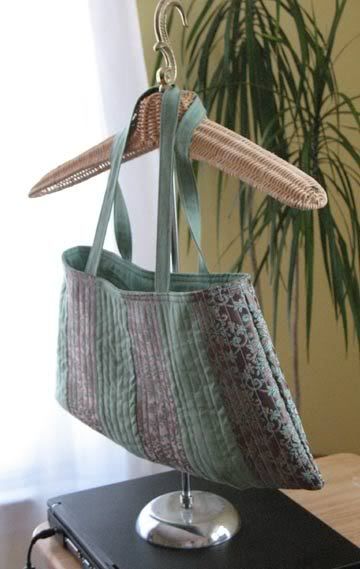 A head-on shot... probably more true-to-color (at least when viewed on my monitor... flash was used, so there's some shadow, but it shows the shape well: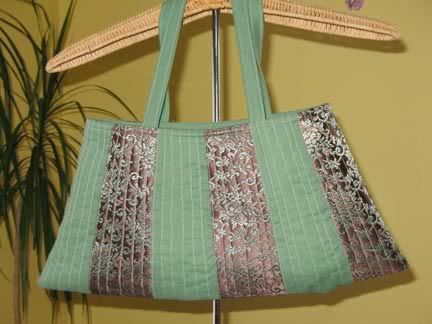 And then a bit of a close-up to see the detail of the fabric: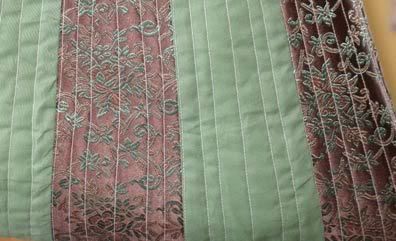 And to load this with pictures, a flash-back ("What?" you say, "How on earth can you have a flash back in your SECOND blog post here? "Well," I say, "it's a flash from my own past... that's how!")...
Here is the purse I made for my mom nearly a year ago (Mother's Day here in the states)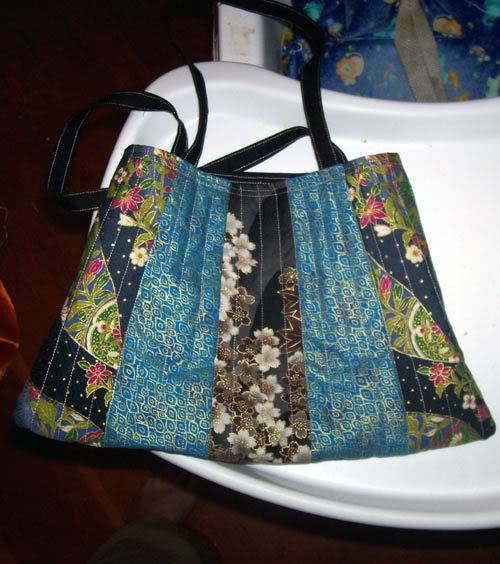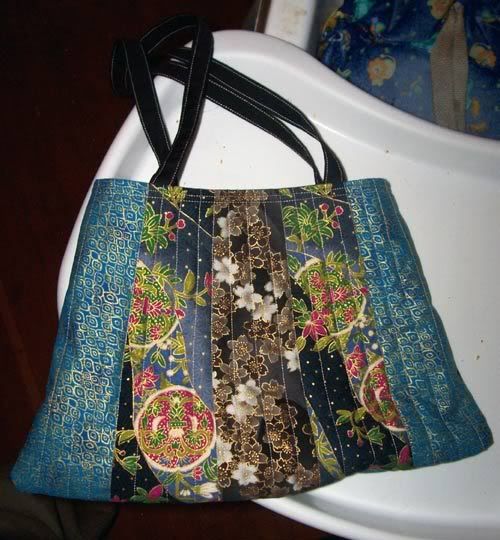 Another strip purse. This was a recycling project. I took an old shirt of my sister's (which no longer fit her... and it was still in her old room at my parents' house even though she's been out for nearly two years) and I cut it up and made a purse for her for her birthday last July. Lovely brocade shirt she got in... Las Vegas I believe. I used the 'right side' (the red) and the 'wrong side' for an appearance of two perfectly-coordinating prints: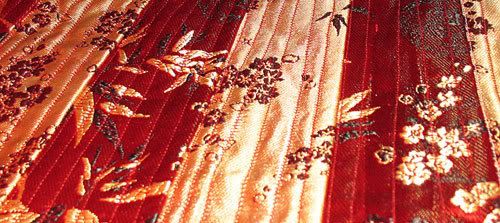 Okay. Just one more. It's more folksy, I think. The material was given to me by a lady from church. Her mom lived across the street from our house and passed away about two years ago. The mom had material and the lady from church didn't sew but knew I did, so she passed it all to me. I'll admit here that not all of the material was really what I use. I just don't work with polyester on a regular basis. At all. But, what was LOVELY was a bin FULL of laces and trims and ribbons and GORGEOUS things to use.
I wanted to tell the lady from church thank you. I figured something made with her mother's material would do the trick. And I was in a strip purse mode so I went with it. My favorite part of this purse is the strap. It's just three pieces of material ripped and then braided together for a bit of a raggedy appearance. It was completely on a whim that I did it and I love the results. The pictures are older and were rushed, so no artsy-fartsiness about them. But you do get to see my mom's house.