It started out looking gorgeous this morning with loads of sunshine... I began thinking it might be even more gorgeous than yesterday.
Then I checked the weather report and it said there was a chance of snow. I initially scoffed at that... and now it's cloudy, grey and very windy like a cold front is blowing in. What a terrible way to make my thoughts of spring cleaning and sewing up lovely spring goods just disappear in an instant.
And so I resort to past events.
I'll probably go backwards chronologically. Or not. But here is one of my favorite pictures on so many levels... my girls are gorgeous (what? me be biased? quite possibly!), I made all three of their dresses and the picture is taken in one of the most beautiful spots I have ever visited -- and it's not that far from home! This picture was taken mid-March at a wedding of dh's cousin.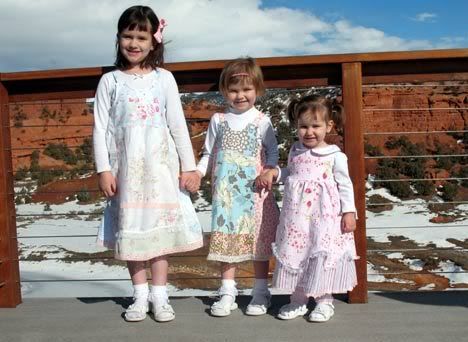 The older two have dresses from the Vida pattern by
Farbenmix
and the littlest has a dress from the Cara pattern by the same company. DD2s dress is all in Amy Butler fabric (oh, do I ever have a soft spot for anything Amy Butler!), DD1s dress is all in Rachel Ashwell Shabby Chic fabric (it was a foolish purchase... too much money to pay for that fabric, but it *is* gorgeous) and the littlest's dress is all cotton poplin from Baby Nay.
I initially anticipated I would love the Vida pattern the best.. and while I *do* love it, I'm head-over-heels for the look of the Cara pattern. I really do need to get some more going. One for each of the older two. Because it's *that* lovely.
...
I'll now jump back all the way to last spring (probably May of 2007). Because it's not springy here at all and I'm longing for it. We had gone up to the mountains to a lovely fire look-out that they used back in the day to look out for forest fires. The view is AMAZING up there.
And my girls just happened to all be wearing something I made, so what a perfect show-off time.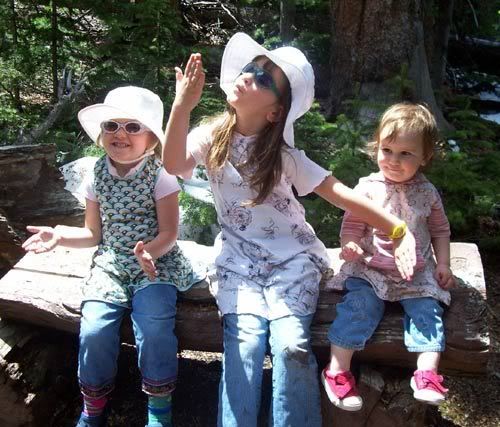 And, because I love this picture...
My bare-footed baby, wind whipping through her hair, standing on the edge of the world with all possibilites in life laying ahead of her.