I promise I've been sewing more than I've been showing. I'm just terrible at remembering I actually *do* have a digital camera sometimes. I guess I lived without one for so long that I got used to not taking photos. Plus, it's terrible having grown up in a house that always had excellent photo-editing software. Sometimes I just can't be bothered to upload photos because there's so much fun I can have with them and it just takes so long....
But I did sew something last night. There are other projects that are begging for my attention, but I *HAD* to dive into this! Really, I *HAD* to. So I did. And I am so pleased with the results... and so is the oldest.
This outfit screams, "SUMMER! Come out and play!" Which is pretty much the opposite of our local weather lately. But, as I typed this, I checked the forecast for tomorrow and it's supposed to jump 20F (up to 83F) from today's temperature to tomorrow's. Wow. That's our seasonal shift. One thing to another... no gradual shifts here.
Oh, but on to the dress....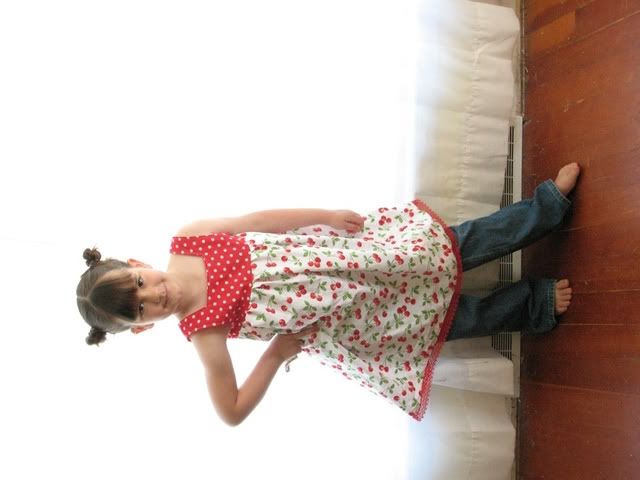 It's quite a large photo when clicked on, but that's because I loaded it straight off of the camera disk onto photoshop. No editing at all (well, I think I *might* have resized it just a bit).
I plan on making these as tops, dresses and beyond. They're PERFECT summer fare, I think. Light, breezy, fun, and cute too!
Editing to add: Goodness, I wasn't good at actually listing much about the actual outfit... I just blabbered on about the weather -- how unkind of me!
The pattern is from my beloved Farbenmix... this is the e-book direct link
http://www.farbenmix.eu/E-Books/Empirchen-E-Book::7922.html
... and the gorgeous fabrics used in this creation were purchased here
http://www.fabrichound.com/
... Myrinda really is fabulous to work with and her selection is amazing, I think ;) I know I've had plenty of fun over there!
...
Edited again.... I don't know why that photo shows up sideways... when you click it it's right-side-up. I haven't a clue why it does that.
Plus, I'm thinking of using another photo hosting site online that doesn't link back to my actual albums. Anybody know of one? Or do I have to create an account simply for the purpose of blog-sharing so that one cannot snoop through other photos?
...
One last edit.... I tried editing via photoshop and we'll see if this works. It's a shot of the back, sort of....