I feel like I've been a bad blogger... first homeschooling started back up, then there were a few minor colds and flu bugs...
But then it all went bad very, very fast.
For the last week I've lived at hospitals. First it was the local hospital. On Monday evening we went in because the youngest had blood in her urine. I looked just like straight blood... which of course worried me... but more than that, she had been sick for two days and was completely lethargic by then and very yellow.
It was assumed at first she simply had a UTI (urinary tract infection) that had spread to her kidneys. But it wasn't 'fixed' with antibiotics. She even got worse.
There were a few times we were reminded of the severity of it all, but the first was the night in the ER when the ER doctor said she was, "touch and go," and that our littlest was the "sickest you'd ever want to see a child."
After three nights in the local hospital her condition hadn't improved and she was taken by ambulance to a larger, regional hospital nearly three hours away.
On Thursday she was admitted to the larger hospital and placed in a regular room in the pediatric unit, but shortly after that was placed in the PICU (Pediatric Intensive Care Unit).
There we were, in a larger hospital with more sick kids ... many sick kids... and yet, our littlest was the only one sick enough to be in intensive care. That was our second big reminder of how very sick she was. If she had continued in her condition for even one more night, I don't know if she'd be around still. It's hard to write that out... like they're merely words.... saying my child -- my baby -- could have died.
It's all so surreal... but yet, it was a very real possibility.
She's had two blood transfusions. I thank the heavens for those two people who had donated their blood... because that kept my little girl going.
Here is what she looked like Thursday in the PICU...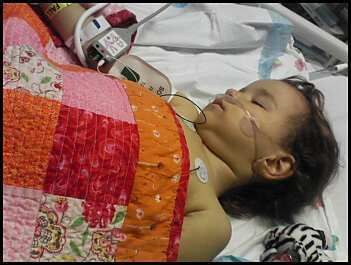 The picture isn't the greatest as it was just taken on my cell phone... but I think her yellow color comes through. She also got severely jaundiced.
They don't know what caused it. That's a scary thing.
She was diagnosed with hemolytic anemia, which means she was producing antibodies that were killing her red blood cells. .. It could almost sound silly in a 'pun-ny' kind of way, but her body was killing her life blood. The thing that keeps our bodies alive.
She saw a pediatric hemotologist and also the intensivist at the larger hospital.
Their highest-ranking theory (because they really don't know... but it's their best guess) is that something viral triggered this. Instead of fighting off the virus, her antibodies somehow did something wrong and the antibodies were killing off red blood cells.
But it's still just a theory. The pediatric hemotologist said in all the years he's been a practicing doctor, and all the years in his specialized field of pediatric hemotology (kid blood), he's never seen this. He's heard of it, but never seen it.
She's one in a million.
Of course I already *knew* she was special... I just didn't realize how special she was.
Kids are amazingly resilient.
After nearly being on her deathbed Thursday, by Friday morning she was already showing signs of perking up. She was able to move back to a room on the regular pediatric floor before noon.
By that evening she had her catheter removed. By Saturday she had her central line removed. By that evening she was climbing the beds and playing in the play room they have on the floor.
And today, Sunday, she was released and sent home.
This picture is from Friday morning... she still has quite a few wires on her, but she was smiling.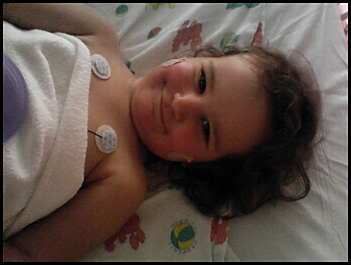 Today, to look at her, you'd never guess that three days ago she hardly even had the energy to cry out when they put the central line in her femoral artery. You'd never know that she could do little more than sleep.
Because today, she's been running around and playing with her sisters, "the grills" as she says (instead of "girls").
So that's why I haven't been sewing. I've been playing advocate and cheerleader for my beautiful baby girl.
I'll get to sewing again.... doing something 'normal' like that is high on my list.
But for now, I'll settle for just being home. For not living in a hospital. For not having to recount her medical history and all that's transpired over the last few days. For not crying every single day. Because I'm all cried out. I don't even have tears of joy left.
But if I did, they'd be flowing.
She's back home. Right where she belongs.